I hope you enjoyed the Holidays! My Christmas and New Years were great, but it was not without some struggles at trying to stay balanced.
Feeling Sick While Trying to Stay Balanced
Part of the reason for not being able to address the different areas of my  Wheel of Promise was because I contracted a nasty cold just before Christmas. I then spent the next 10-days or so getting over it.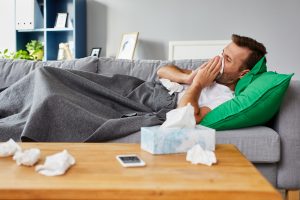 This made it difficult for me to exercise. I had no desire or energy to even walk for a few minutes, let alone stick to my hobbies of playing squash. Feeling congested also meant that I wasn't at my best in dealing with some of the people in my life. When I had the chance, I would find a comfy couch or bed and nap for twenty minutes at a time.
Lessons On Balance Over The Holidays
All of this taught me a few things about trying to live a more balanced life when you're not at your physical best.
Ask for help. I was sick and wanted to stay in bed for more days than not, but I also have twin toddlers at home. Not to mention there were gifts to wrap, foods to prepare, and bathrooms to clean. So, I regularly checked-in with my wife to make sure she was okay managing things whenever I needed to get away and sleep for a bit. This helped me to fight off the cold more quickly.
Ignore the voice of guilt. When I missed my workouts or strayed away from healthy foods, I could hear the voice of guilt in my head. Richard, if you have the energy to shop for last-minute gifts, then you have the energy to exercise…Why are you eating so many chocolates and sweets? You're going to gain weight and be out of shape! These are just some of the thoughts I had running through my head over the Holidays. So, I simply acknowledged them instead of challenging them. By ignoring these thoughts and focusing on the present moment instead, I was able to move past them without being stuck in a perpetual state of guilt.
Create a plan. Because I mentally entered vacation mode, it was easy to neglect the activities that typically lead me to feel balanced (e.g., exercise, prayer, meditation, reading, writing). So, at one point over the Holidays, I sat down in front of my computer and looked at my calendar for the first week of the new year and scheduled some activities. I immediately felt better. It felt like I was taking initiative and reconnecting with my goal of having more balance in life. Creating a plan and scheduling your week is an important step towards a more balanced life.
Planning For Balance
Although it was a challenge to stick with some of the habits I had built before the Holidays, I still found myself thinking about them. This was a good thing since thinking is an important part of behaviour change. Although you might sometimes feel guilty for not following through with some of your commitments, be easy on yourself. Don't waste time thinking about what you are not doing. Instead, think and plan about what you want to do.
Now that the Holidays are over, focus again on the things that you are trying to work on. Focus on the things that you believe will help to improve your emotional state – things that will lead to emotions of excitement, anticipation, and enthusiasm.
I hope 2019 is a great start to living a more balanced life!